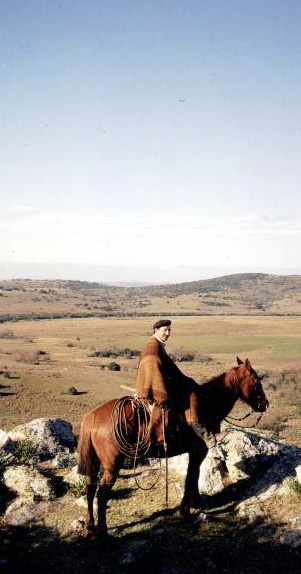 Hola and welcome to a visual overview of a wonderful summer I spent on an "estancia", or cattle/sheep ranch, a few hours north of Montevideo (Uruguay's capital) in 1994.
It was truly a unique and wonderful experience: a different place, time and reality.
VERY briefly, my name is Taavi Siitam and I live and work in Toronto, Canada as an urban planner. I am slowly creating a series of websites to share with friends and relatives some of what I've been up to during some of my travels over the years. For visitors these sites will be a sort of introduction of myself -- and of my interest in travel, culture and amateur photography. I hope you enjoy the site.

Ramble as you will....









Antonio perched above the rolling fields of Estancia Tres Arroyos.
Unknown Gem Type: tlx.tlxinv.guestbook
Here for photos from... TAAVI's CUBA TRIP
Here for photos from... TAAVI's NORDIC TOUR
First posted: 06 November, 2001
Last updated: 09 June, 2002